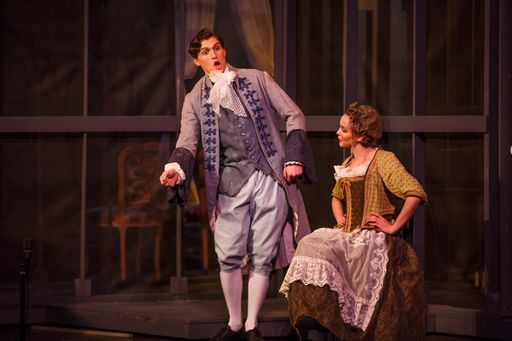 University of Mobile's Mozart's The Impresario & Salieri's Prima la Musica e poi le parole (Double-Bill MainStage Opera)
Date/Time
Date(s) - January 29, 2021
7:00 pm - 9:00 pm
Location
Murphy High School Auditorium
Categories No Categories
Mozart's The Impresario & Salieri's Prima la Musica e poi le parole (Double-Bill MainStage Opera)
January 29, 2021 @ 7pm
January 31, 2021 @ 2pm
Location: Murphy High School
            100 S Carlen St.
            Mobile, AL 36606
Ticketing: $15 General Admission itickets.com/universityofmobile
Seating: 200 (in-person viewing) 
Streaming: Pending COVID-19 Update
Mozart's The Impresario
The Impresario, Frank, must put together a company of actors and singers while dealing with their impulses, rivalries and hypocrisy. Actors and actresses are auditioned in a series of dramatic scenes, and as performers learn of each other's varying wages and roles under which they were hired, jealousy and anger ensues. After a series of events take place throughout the production, everyone agrees to their offered earnings and the singers and actors determine that art can thrive only through the peaceable cooperation of all their strengths.
Salieri's Prima la Musica e poi le parole
Count Opizio contracts a composer and poet to write a new opera to be written in four days. The composer has already created the score, but the poet is crippled with writer's block and, in desperation, attempts to adapt the lyrics he has already written to the existing music. A fight between the composer and the poet breaks out over the obstacles presented over the libretto of the new opera. Soon after, they are interrupted by Eleonora, the prima donna, and Tonina, the comedic performer, each with demands to sing the opening aria. A feud then erupts between the two singers in a battle of vocal prowess and, seeing this, the composer and the poet come up with a brilliant solution to their compositional woes and are able to pacify the ladies in the process.