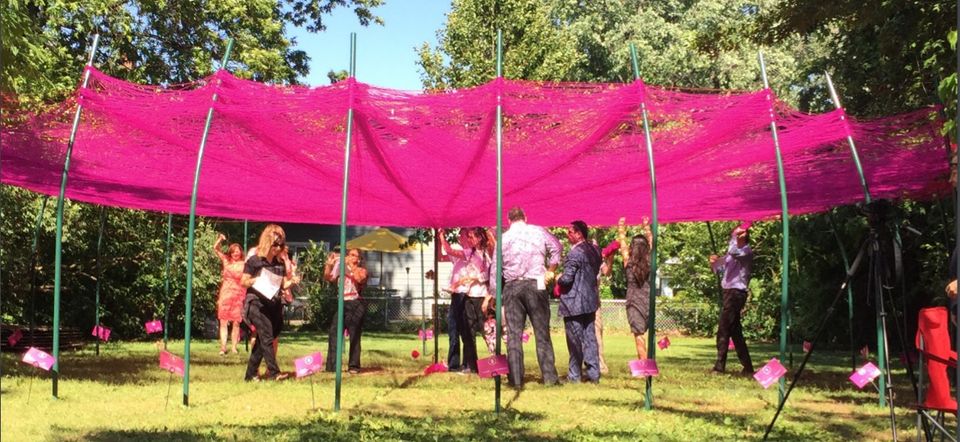 The UNITY Project: Interactive Public Art Project
Date/Time
Date(s) - November 6, 2021
9:00 am - 3:00 pm
Location
Isom Clemon Civil Rights Park
Categories
Mobile United, the Downtown Mobile Alliance, and the City of Mobile Parks and Recreation Department are partnering to bring the UNITY Project to life in Mobile.
WHO: Open to the Public
WHERE: Isom Clemons Civil Rights Park –
Downtown at the intersection of Dr. Martin Luther King, Jr Ave and Congress St
WHAT: UNITY Interactive Public Art Project
WHEN: November 6, 2021 from 9am-3pm
What is the Unity Project?
UNITY is a circular arrangement of 32 poles in a large outdoor area. Each pole is labeled with an identifier: for example, "I'm a parent," "I speak English as a Second Language," "I identify as LGBTQ," "I am…" With yarn, participants tie to each pole with which they identify and a canopy of interconnectedness forms as more people participate. A grant from the Thompson Foundation and the Downtown Mobile Alliance have made the creation of the art structure possible.
Additional Details:
Participation in the UNITY Project, sidewalk chalk, and outdoor exercise classes led by Mission Fitness (and perhaps one more organization) are free to all attendees. Tables will be set up for people to break bread together; attendees may bring a picnic lunch or purchase food from one of the participating food trucks. The Downtown Mobile Alliance will be hosting a plant swap from 11AM-3PM.
The area where Isom Clemons Park now stands was once recognized as an unofficial race barrier into downtown. By hosting the UNITY Project in this location, we hope to celebrate both our individual and communal contributions to the one-of-a-kind tapestry that defines Mobile.
For more information about the upcoming event, contact Mobile United's offices at 251-432-1638. To learn more about the UNITY Project as a whole, please visit 
www.unityproject.net.