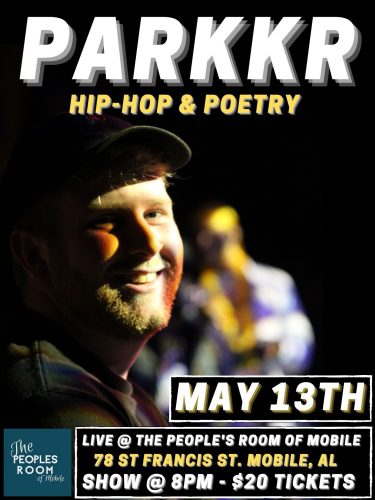 The Peoples Room: PARKKR (Hip-Hop & Poetry)
Date/Time
Date(s) - May 13, 2022
8:00 pm - 10:00 pm
Location
The Peoples Room of Mobile
Categories
Tickets $20. Call 251-367-4599 for reservations.
Parker McPhail is returning back to the Peoples Room of Mobile after 5 years for an intimate night of live Hip-Hop and poetry!
Show starts @ 8PM
Call ahead to reserve a table, seats are limited!
____________________________
Parks the Rapper showcases fast and slow-paced Hip-Hop with powerful and thought-provoking lyrics. As a resident of Mobile, Alabama, Parks has been making a name for himself around his home city with more than two years of work summed up into his freshman studio album recorded in Boggy Branch Studio in Vancleave, Mississippi. Panthalassa broke creative boundaries in modern rap and there's more coming. With both fast and slow feels in the songs, every song on Panthalassa is unique and distinguishable from the others.
Parks has a very large handful of performance experience, from performing on stage, in talent contests, recitals, competitions, camps, and on the downtown streets of Mobile. Most of his free time is spent perfecting performance, both on and off-stage ability and presence, along with vocal practice and songwriting. You can find his music easily on Soundcloud, YouTube, and Facebook, along with dozens of digital music providers such as iTunes, Spotify, Rdio, and Apple Music.
To learn more about Parks McPhail, visit: https://solo.to/parkkr