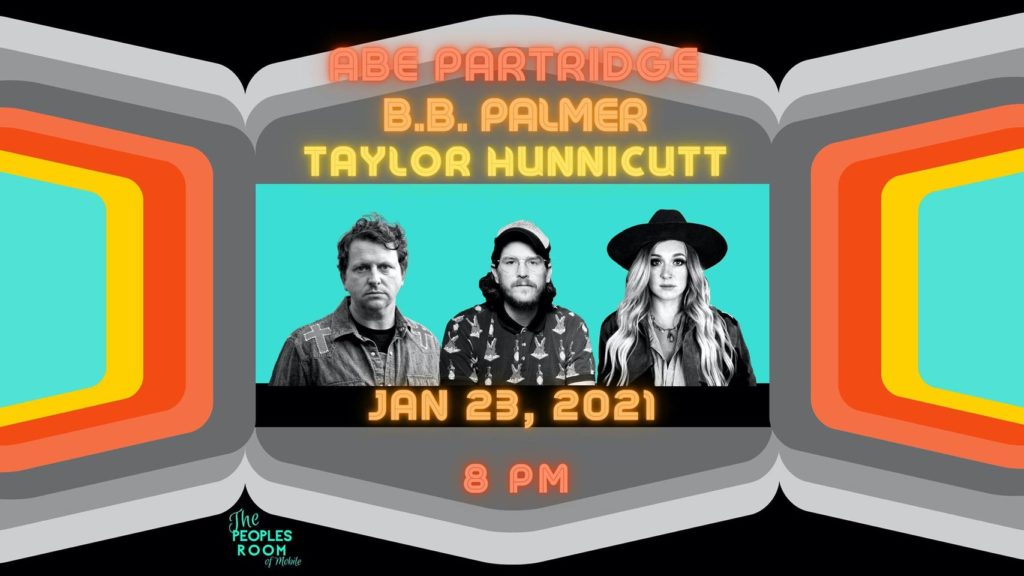 The People's Room of Mobile: SOLD OUT – An Evening with Abe Partridge, B. B. Palmer, & Taylor Hunnicutt
Date/Time
Date(s) - January 23, 2021
8:00 pm - 10:00 pm
Location
The Peoples Room of Mobile
Categories
Tickets $25. Tickets available on Eventbrite.
More info. call/text 251-367-4599
"Abe Partridge has established himself as one of the most respected songwriters and visual folk artists in the southeast. His sound ranges from the earthy to the surreal, and has had his lyrics compared to Townes, Guy or Rodney hitting on spiritual high to the dark seeds of depression, Partridge draws listeners in with a combination of southern gothic storytelling, dry humor, and gripping intensity."
– AMERICAN SONGWRITER MAGAZINE
"Partridge's raw, emotional attack and stirringly honest lyricism balanced between the deeply, heart-achingly personal and the political. Partridge was one of the most compelling artists I stumbled upon."
– NO DEPRESSION
"From the path of righteousness to despair and finding your own personal path to salvation, Abe Partridge's life has taken many twists and turns. From Fundamentalist Baptist pastor to singer/songwriter and artist, he has finally found himself through art and music."
– ALABAMA PUBLIC TELEVISION
B.B. Palmer was born originally as Bernard Palmer Breitung on the 20th day of April 1987. Risen from the ashes as the third incarnation of the Phoenix, Palmer help founded the Opelika based band B.B. Palmer in 2014.
Hailing originally from the west side of Mobile Bay in South Alabama, Palmer has been writing songs since he was 15. He has spread the sound far and wide with his band, traveling and playing the music all over the continental United States with acts the likes of Alan Jackson, Ted Nugent, St. Paul and The Broken Bones, Old Crowe Medicine Show, Wayne Hancock, Mike and The Moonpies, and more.
"One could argue that he may be the greatest song writer of the last 2,000 years, eclipsing giants such as Johann Sebastian Bach, George Gershwin, and Lennon/McCartney.." – Insane Guy at local gas Station
The bands debut full length album "Lee County's Finest" was just released earlier this year in February and these are what the critics are saying..
"The album is no 'one and done' listen kind of album. It is an intricate telling of struggle vs. triumph, good vs. evil, & lucid dreams vs. harsh political realities. In my opinion these are the primary themes of the record and they are intricately interwoven within 11 songs that flow together as one concept." – RICKY'S REVIEWS
"The music is comprised of classic honky tonk elements, with twanged, strummed and plucked guitars, weeping steel and a sweet fiddle scratch behind Palmer's distinctive, idiosyncratic voice. Lee County's Finest is somewhat of a trip, a listening experience from start to finish, with samples and ambiances linking the tracks in a continual sonic flow..
On repeated listens, the songs unfurl as the lyrics sink into your consciousness, suggesting questions as much as revealing answers. The depths of these songs seem to plunge further away as you become more familiar with them, until you are staring into the abyss of pain and struggle that is the human condition, wrestling with the facts of reincarnation, resurrection and Armageddon. As I said, this is existential honky tonk." Tony Sexton, Whiskey Preachin – Brighton UK
"Dirty-fingernails twang with feisty lead guitar indebted to Seattle and England as much as Nashville" – 
Al.com
________________________________________________________________________
Taylor Hunnicutt is a singer/songwriter based in Birmingham, Alabama. With roots in Blues, Soul, Country and Americana, Taylor's performances cross genre lines and give audiences a unique and authentic storytelling experience.
"With a voice that sounds like Stevie Nicks if she had been raised in the Black Belt, Hunnicutt bends genres between country, soul, blues and rock but settles sweetly in the Americana style of Tift Merritt, Ryan Adams or Amanda Shires." – Michael Tomberlin Alabama News Center