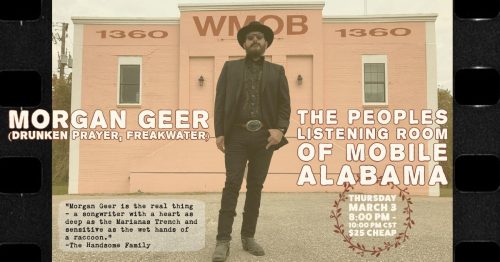 The Peoples Room of Mobile : Drunken Prayer solo
Date/Time
Date(s) - March 3, 2022
8:00 pm - 10:00 pm
Location
The Peoples Room of Mobile
Categories
Tickets $25. Tickets available on Eventbrite. Click here to purchase
Morgan Geer is coming home to Mobile, AL where his grandfather, John Kern played Dixieland jazz for many years.
__________________________
"Drunken Prayer is Americana in the sense that America is a place of menace, hybrid vigor and unending strangeness."
– Robert Duncan, CREEM Magazine
Drunken Prayer transcends the bounds of Americana music. Morgan Geer writes songs that could emerge from a highly blissed-out biker bar or a swampy ashram.
Drunken Prayer will likely bring to mind The Band for a lot of listeners, with the sense of place and tradition. But Morgan Geer's songs and his singing often suggest a kinship with artists like Bobby Charles or Doug Sahm, musicians with Southern roots, with a yip and break to their voices, and notes of sadness offset by a wicked sense of humor.
For the last year Morgan Geer has been working from his home studio with Paul Oldham (Bonnie "Prince" Billy, Palace), building on drum tracks initially recorded in New Mexico at Empty House Studios, home of doom metal bands like OM and Sleep. The end result evokes an ominous acid Western feedback-and-driftwood aesthetic.
Over the past two years, before the pandemic, Drunken Prayer played hundreds of shows across 18 countries and across the US at venues such as the Newport Folk Festival, Pickathon and San Francisco's Great American Music Hall. Geer's music has been featured on AMC, NPR, WFMU and SiriusXM.
On the side Geer is the lead guitar player for alt-country goths Freakwater and writes for different artists including the Brooklyn rock and soul phenom Bette Smith. Morgan has also been touring internationally, opening for and
often joining the eccentric Handsome Family.