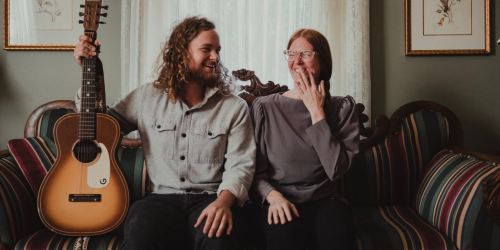 The Peoples Room of Mobile : An Evening with Webster's Wheel
Date/Time
Date(s) - March 13, 2022
8:00 pm - 10:00 pm
Location
The Peoples Room of Mobile
Categories
Tickets $25. Tickets available on Eventbrite. Click here to purchase
With a "sonic gaze generated when these two are clicking like nobody's business," the captivating harmonies, poetic lyricism, and southern charm of rising indie-folk duo Webster's Wheel are a surefire heart revival. Hailing from the southern hills of Alabama, Daniel Webster, and Marie Robertson both grew up singing old hymns and running barefoot through the creek. By their 20s, Daniel had developed into a prolific suspendered songwriter performing on streets across the southeast, and Marie was a sequin-strutting multi-instrumentalist, drawing audiences in with her powerhouse charm.
Daniel and Marie met in 2017, both opening for a Big Freedia show at Pensacola Beach. Over the next two years, the duo gradually connected over their shared passion for acoustic songwriting. In 2019, they co-hosted a weekly songwriter series in smalltown artist hub Opelika, AL, and began writing their first songs together. "We were watching so many great local and regional songwriters coming through, it was hard not to be inspired by all that talent," said Robertson. "You put two inspired songwriters in a room together and eventually songs are just gonna start happening."
In summer 2020, Webster's Wheel released their debut LP Rest My Weary I's. Described by Gashouse Radio as "undisputedly some of the best you're going to hear on an acoustic record in 2020," the album was nominated for IndieShark Music Magazine's 2020 Album of the Year. Now the duo is gearing up for the release of their second full-length album Made in Sunshine in early 2021. Bluegrass harmonies and country bass lines are written all over this upbeat sophomore LP. Folk songs like "Little Boy Blue" feel like they came straight from the southern Great Depression era, and scattered ballads like "A Note" are included to make sure listeners don't go away without shedding a small tear of hope for the world. The duo has written their upcoming album to accompany the present state of the human spirit, but instead of simply reflecting on the current mood of the world, Webster's Wheel is offering a spiritual guidebook for navigating the deep waters. "There's a lot of disagreement going on right now and we want to protect the integrity of our listeners as they reflect on our messages," says Webster. "We embrace everyone with compassion and hope that after they hear our music, they leave with a smile in their hearts."Their captivating harmonies, poetic lyricism, and southern charm are a surefire heart revival.
More info. at https://websterswheel.com