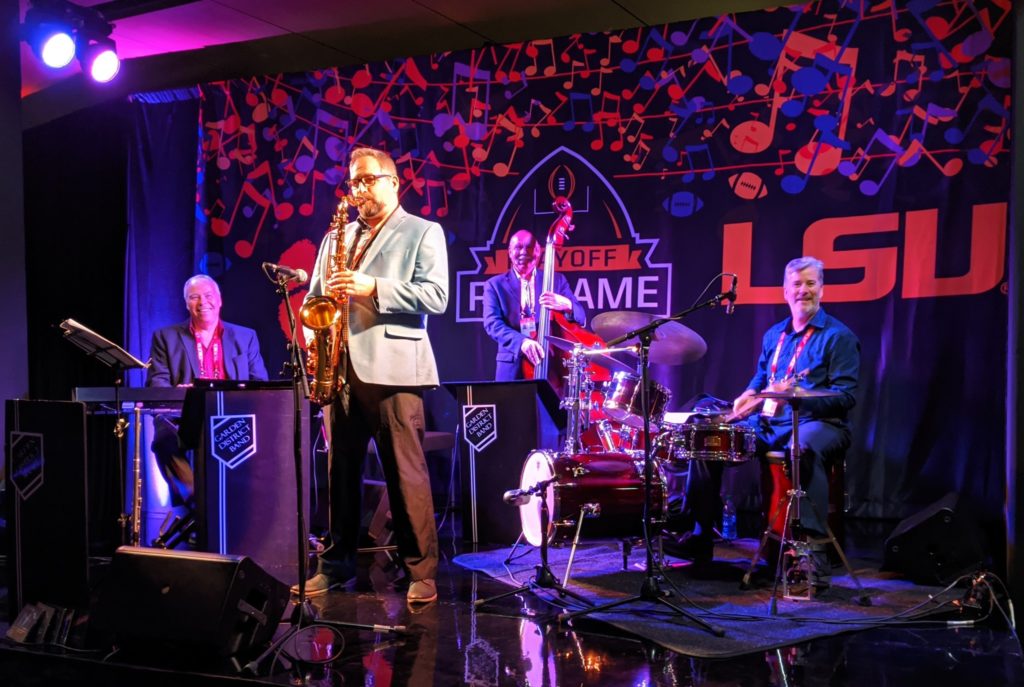 The People's Room of Mobile: An Evening with The Garden District Jazz Trio
Date/Time
Date(s) - September 12, 2020
8:00 pm - 10:00 pm
Location
The Peoples Room of Mobile
Categories
Hey everyone! David W. Hansen is a New Orleans based band leader, drummer-percussionist, songwriter/lyricist (BMI), licensed music contractor
(providing work to many professional musicians), business and licensed record label owner, a voting member of NARAS (Grammy's), and a father,
…who performs music a lot!
David has combined a highly creative, musically infused group of musicians to perform his original compositions along with classic jazz standards.
His Garden District Band released their 10th album (CD) February 15th, 2019 which reached number 72 on the national JazzWeek charts with his
all-original compositions. In January 2020 they performed in Los Angeles at the Alvas Showroom Music during the NAMM week. Yamaha provided a drum set,
Goldtone Percussion provided Earthtone drum heads and the group featured special guest, Roland Guerin, on bass.
Hansen's Garden District Trio has performed seven-nights-a-week at Houston's Restaurant, 1755 St. Charles Avenue, New Orleans, LA 70130 since 2006 –
over fourteen years!
The GDBand is presently off during the coronavirus (COVID-19) world-wide pandemic, and with Phase Two re-opening at 50% capacity, the "Houston's"
management team asked David to return with his jazz trio as soon as the Mayor and Governor permit indoor music performances to return.
This band is a modern musical ensemble (trio to nine-member band). As mentioned, they perform "original compositions" along with selections
from 100 years of jazz that include songs from the Classic American Songbook, Great American Songbook, classic jazz standards, and compositions
by New Orleans artists. Styles include jazz, Bebop, Bossa Novas, Sambas, Latin/jazz, ballads, Funk, Blues, swing and everything in-between.
Performances are presented in a tight and highly improvised setting with a high level of musicality, and groove.