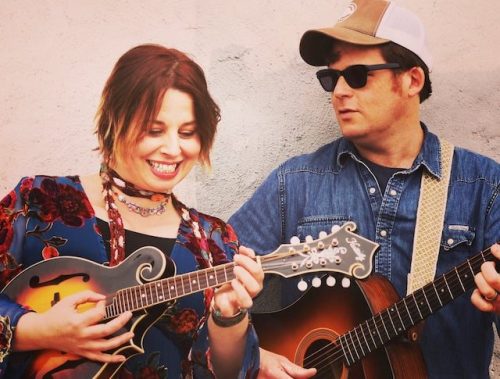 the people's room of mobile: An Evening with Adam Carroll and Chris Carroll
Date/Time
Date(s) - May 4, 2022
8:00 pm - 10:00 pm
Location
The Peoples Room of Mobile
Categories
Tickets $25. Tickets available on Eventbrite. Click here to purchase
Adam Carroll's musical biography is as winding as the stories in his songs, full of far-away places and close-to-home meditations that encompass a career built on countless shows in Texas clubs, thousands of miles on the road with his partner in life and music, Chris Carroll, accolades of all kinds, and still the burning desire to simply…write the next song.
Thank goodness for that, because Carroll's songs tap into a vein of the human condition that make them deeply moving but often humorous. As No Depression notes, "Carroll slips easily between observed detail and poetic flight, framing everyday images as literary moments. He's particularly adept at portraiture, whether it's a colorful hustler, a rural taxi driver or a karaoke singer, he sees what you might feel, but couldn't verbalize, capturing a person's essence in the details of their physical being and actions."
"The core of what I do is songwriting; it's the one thing I'm passionate about. It's the most fulfilling and challenging job I can imagine." explains Adam. In fact, the scope of Carroll's songwriting influence was recognized in 2016 when "Highway Prayer: A Tribute to Adam Carroll" was released, featuring esteemed writers/performers like Hayes Carll, James McMurtry, Slaid Cleaves, and Terri Hendrix covering Carroll-penned tunes. It has garnered attention from publications like Texas Monthly and Rolling Stone, the latter which noted that Carroll "is talented beyond his years."
With tours crisscrossing the USA, Canada and Europe, Carroll is currently focusing on performances as a duo with Chris Carroll, Canadian singer-songwriter and Texas transplant. Their distinct energies and personalities play off each other onstage, and the effect is a both moving and entertaining show that delights crowds from coast to coast.
Carroll's body of work is expansive with eight independently produced albums to his name. From studio records produced by Grammy Award winner Lloyd Maines (South of Town, Lookin' Out the Screen Door, Live at Cheatham Street, Far Away Blues) through to his latest releases (Old Town Rock N Roll, Hard Times with Michael O'Connor, Live at Flipnotics), Carroll's song credits also include co-writes and covers by Slaid Cleaves ("Race Car Joe", "Hard to Believe"), Hayes Carll ("Take Me Away", featured in the film Country Strong) and Band of Heathens ("Medicine Man", "Maple Tears").
"Among singer-songwriters, Adam Carroll is probably Austin's best-kept secret. His tunes are marvels of economy; …constantly inventive and decidedly offbeat…Live at Flipnotics offers a typically low-key yet inviting overview of his career. With (Producer) Scrappy Jud Newcomb on guitar, he sparkles." Jim Caligiuri, Austin Chronicle

"Influences? Adam Carroll. I used to skip my own gigs to go watch him…by far my favorite, somebody whose writing style I emulated in some ways." Hayes Carll, No Depression 2011
More info. at https://www.adamcarroll.com