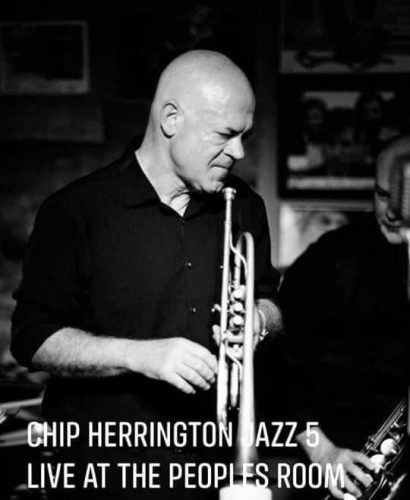 The Peoples Room: An Evening with the Chip Herrington Jazz 5
Date/Time
Date(s) - May 12, 2022
8:00 pm - 10:00 pm
Location
The Peoples Room of Mobile
Categories
Tickets $25. Tickets available on Eventbrite. Click here to purchase
When Chip Herrington was 7 years old, he found an old cornet and beginner band book in the attic of his home in Columbia, Mississippi. By the end of the day, he had taught himself the C scale and could play several songs from the book.
He's been playing ever since. Chip is best known as the Trumpet player for Wet Willie (Hurricane Horns) and as Band Leader of The Mobile Big Band Society, but he's performed with familiar artists such as Aretha Franklin and Lou Rawls. He is also a regular studio player being heard on recordings by Eric Erdman, Donna Hall, Tom Riepl, and others.
The Peoples Room regulars will recognize him as the sometimes sideman to Lisa Mills on "Sexy Muted Trumpet."
His latest efforts have focused on bringing more authentic jazz to the area. The Chip Herrington jazz quintet is an ensemble that promises to deliver something which has become very rare, real acoustic jazz in a traditional club setting — "lounge jazz," if you will.
Real jazz and The Peoples Room of Mobile … a perfect match!