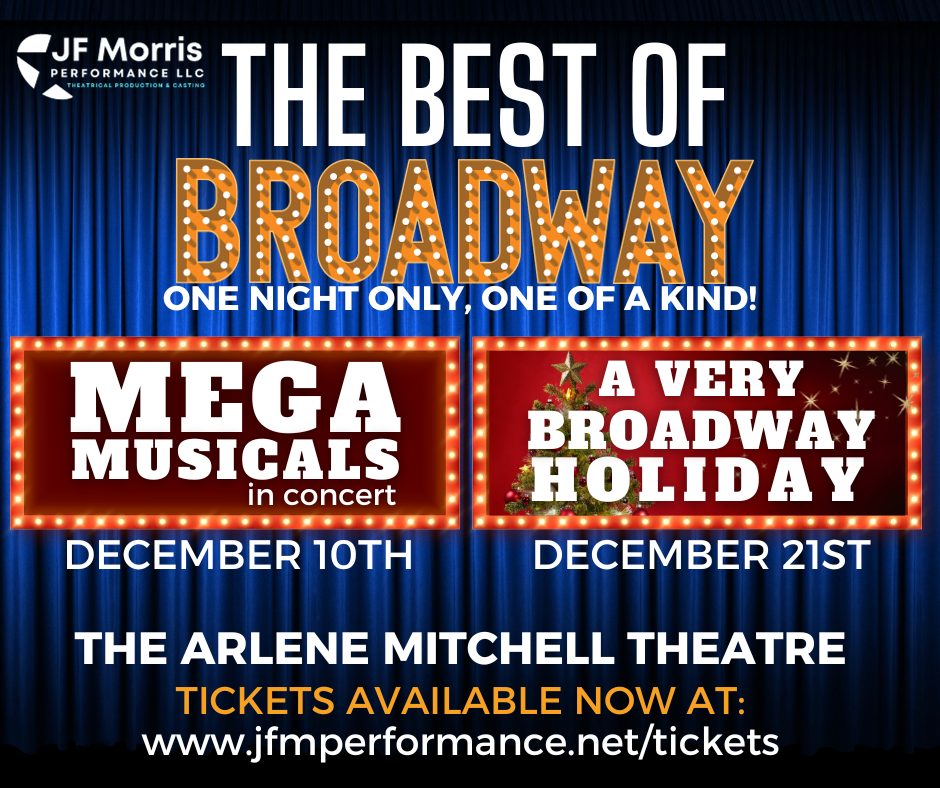 The Best of Broadway: MEGA MUSICALS in Concert
Date/Time
Date(s) - December 10, 2023
7:00 pm - 9:00 pm
Location
Arlene Mitchell Theater, Spring Hill College
Categories
MEGA MUSICALS in Concert Dec. 10th at 7PM
The biggest and best music of MEGA hits from Broadway's Musical Theatre performed in concert!
JF Morris Performance LLC is proud to announce the launch of its Best of Broadway Cabaret
Series in Mobile, Alabama. The up-and-coming theatrical production company, comprised of
local producers, is committed to hiring local performing artists to create accessible and
high-quality entertainment. The company is spearheaded by Executive Director Jacob F.
Morris, a regional director and performer who has directed for private companies in the area,
such as Bay Area Performing Arts and the City of Orange Beach. Artistic Associates for the
company include Michael Seward, Owner of Seward Studios, Malinda Powers, Adjunct
Instructor at the University of Mobile, Justin Gipson, technical theatre specialist and A&R
Producer, and Hannah Grace Smith, Theatre Director at St. Luke's Episcopal School. The Best
of Broadway Cabaret Series is a celebration of the world of musical theatre, a series of
productions that will run through May of 2024. Some of the upcoming shows include The Best
of Broadway: MEGA MUSICALS (December 10th) and A VERY BROADWAY HOLIDAY (December
21st). The company is committed to involving the community in all aspects of their
productions. From a Mobile-based production team, to a talented cast of local performers,
this series will not only be entertaining, but a way to support Mobile's professional theatre
and entertainment industry. MEGA MUSICALS and A VERY BROADWAY HOLIDAY will be
presented at the Arlene Mitchell Theatre located on the Spring Hill College campus (1495
Rimes Rd, Mobile, AL, 36608).