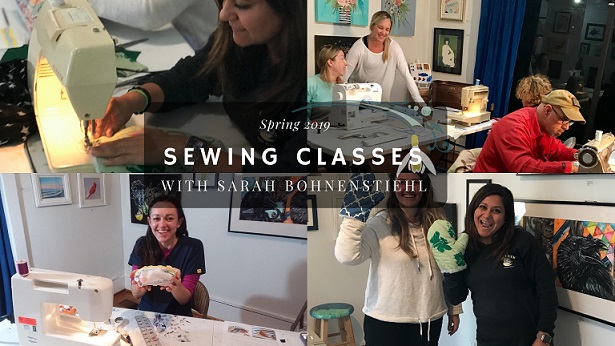 Sewing Lessons (Beginners – Advanced)
Date/Time
Date(s) - March 19, 2019
10:00 am - 8:00 pm
Location
Marnee's Studio
Categories
This Spring learn to take alterations into your own hands or expand your existing sewing skills with Sarah Bohnenstiehl at Marnée's Studio. We offer classes for ages 12+, beginning through advanced (see descriptions and dates below). Starting the week of March 18th, these 4 or 2-week courses are $120 (you bring a sewing machine or we have 2 for rent for $20/ session at the studio). Classes cap out at 4 people so register today (by paying in full via this link) to secure your spot! You can also follow this event on Facebook via this link!
(1) Beginning Sewing Class: 4-week OR 2-week course :  Introduction to your sewing machine and simple stitching.
Monday & Wednesday, 12-2pm (2 classes a week for 2 weeks; March 18, 20, 25, & 27th) OR
Tuesday's, 6-8pm (1 class a week for 4 weeks; March 19, 26, April 2, & 9th)
Learn the basic functions of your sewing machine and become comfortable with straight stitching. You will learn how to thread your machines, wind your bobbins and adjust your settings. We will practice sewing on a variety of fabrics and sewing different shapes. Each student will have completed a project by the end of course.
(2) Intermediate Sewing Class: 2-week course: Basic sewing alterations and mending techniques
Tuesday & Thursday, 12-2 pm (2 classes a week for 2 weeks; March 19, 21, 26, & 28th)
Students will learn basic alterations skills, including hems and adjusting seam allowances. Some hand sewing techniques will be included.
(3) Advance Sewing Class: 4-week course: Creative and Functional Sewing with patterns
Wednesday, 10-12pm (1 class a week for 4 weeks; March 20, 27, April 3, & 10)
This course is for students who already have basic sewing skills and would like to create articles of clothing or accessories using a pattern. The first two weeks we will learn the ins and outs of a pattern completing a project as a group. The last two weeks students are free to choose their own pattern to complete a sewing project.
**WE HIGHLY RECOMMEND PURCHASING YOUR OWN SEWING MACHINE TO USE IN THESE COURSES, HOWEVER, WE WILL HAVE 2-3 MACHINES AVAILABLE FOR RENT FOR $20/ SESSION (email info@marneestudio.com to reserve).**
**Call (251)206-5587  or email info@marneestudio.com for questions. **