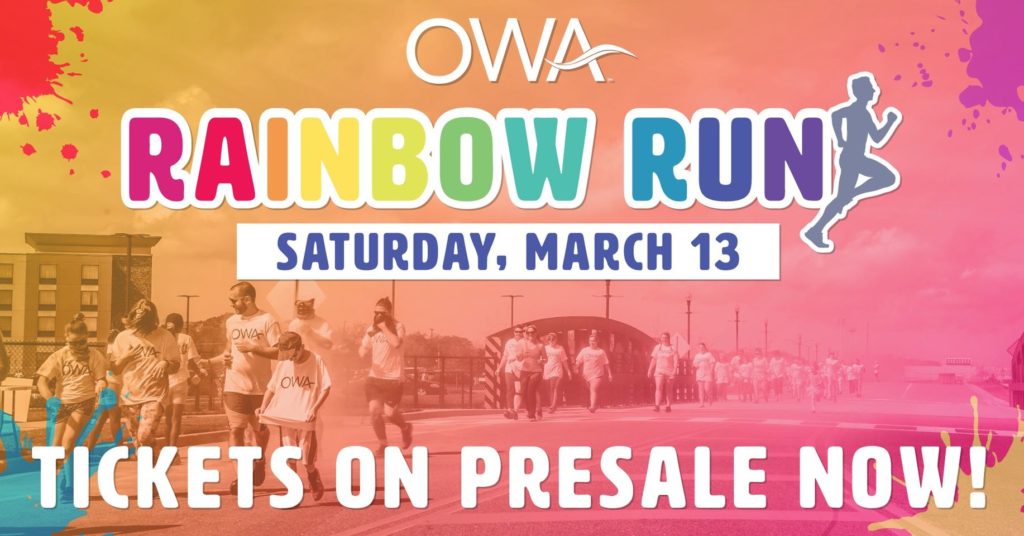 Date/Time
Date(s) - March 13, 2021
8:00 am - 10:45 am
Location
OWA
Categories
Schedule for Rainbow run on Saturday, March 13:
Registration: 8am
Photobooth: 8-10am
Run Starts: 9am
After Party: 9:45am-10:45am
As the name suggests, it isn't your average run! On Saturday, March 13 participants will jog, walk, sprint (your choice!) through OWA as neon powder fills the air, turning you into a bright and colorful runner in the streets! Grab your friends, sign up, and you'll each get a complimentary scratch off card featuring prizes, OWA swag and a white Rainbow Run T-shirt, which helps the neon colors show up. You won't be missed in the streets of Downtown when you're covered in the colors of the rainbow!
We'll have a magical and colorful day here at OWA on March 13. It's the perfect time to run across the rainbow and play with some puppies waiting on the other side… because it's also OWA's 4th annual St. Pawtty's Day Celebration starting after the Rainbow Run.
Participation includes a free Rainbow Run T-shirt that's ready to be covered in all the flying colors, or you can wear your own get-up to the race. Hint: White shirts work best for all the colors to really show up!
This is a socially-distanced event. We invite you to learn more about OWA's enhanced health and safety guidelines on our website.
FAQ
How much are tickets? Pre-sale tickets are available for a special purchase price of $24.99++ for ages 3+. An additional $2 will be charged for shirts larger than a XL. After February 28, 2021, registration for ages 3+ will be $29.99++. An additional $2 will be charged for shirts larger than a XL.
What does my ticket include? Tickets to Rainbow Run include entry to the race, t-shirt, color tattoo, plus a scratch off card with prizes and swag from select OWA tenants.
May I register day-of? You may! However, we encourage all participants to register in advance, to ensure you get your complimentary Rainbow Run t-shirt!
How long is the run? The 1.5 miles Rainbow Run is long enough for runners to enjoy, but short enough to where children can still participate.
Do I have to run? Running is optional! Feel free to walk, skip, jog or otherwise enjoy yourself along the course.
Are face coverings required for participation? Due to the nature of the powders in use at the Rainbow Run, face coverings are recommended for all participants. Many guests in the 2020 Rainbow Run chose to wear a bandanna and/or a pair of sunglasses to protect their eyes and airways. In general, face coverings are required at OWA anytime the 6-foot barrier can be broken with someone from outside your household, or when inside an OWA business.
Are three and under allowed to participate? Due to the nature of the powders in use at the Rainbow Run, it is not recommended for guests 3 and under to participate.
Where and when is check in? Check-in is at 8am CST, in the parking lot of the OWA Theater, where Legends In Concert performs 5 nights a week.
Where do I get my Rainbow Run t-shirt? Your complimentary Rainbow Run t-shirt will be ready for you at check-in beginning at 8am on the morning of Rainbow Run.
Where is the run being held? The run will begin by the bridge near the OWA Theater and will take place throughout the OWA property. The race will be clearly marked with chalk arrows on the ground and will end at the OWA Island.
Will there be complimentary water stations? Yes! There will be three water stations along the race route to help runners stay hydrated.
Where is the photo booth located? There will be a complimentary GIF roamer in the starting line area, and a 360 photobooth will be located at the finish line on the OWA Island where the after party is being held.
Where is the after party located? The after party is being held at the OWA Island, which is also the location for the finish line of the race. The OWA Island is also where you will get your OWA Rainbow Run swag bag. Light food and beverage options will also be available while supplies last.