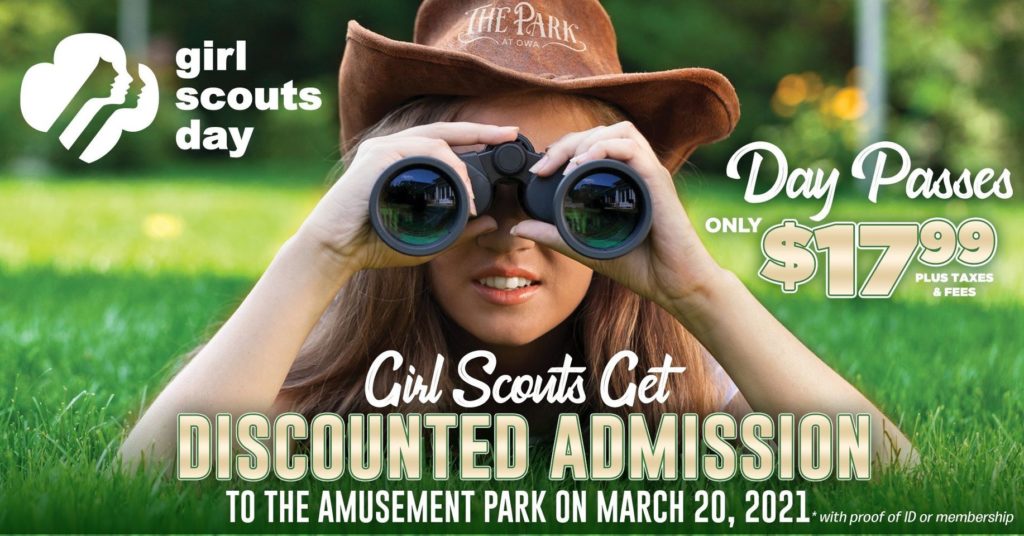 Date/Time
Date(s) - March 20, 2021
12:00 pm - 2:00 pm
Location
OWA
Categories
Let's give our girls what they need to succeed! Spark an interest in science, technology, engineering and math within your Girl Scouts troop at The Park at OWA!
Saturday, March 20th, Girl Scouts and their families are invited to spend the day exploring and learning through hands-on instruction in The Park at OWA! Girl Scouts and their families can learn about potential energy, kinetic energy, centripetal force, gravity, and pendulums and how they relate to different rides in the park as part of our Education in Motion program!
The educational component will run from noon to 2pm, but Girl Scouts and their families are welcome to stay all day during Park hours! Day Passes are required to take part in Education in Motion.
Plus! All Girl Scouts can get a day pass to the amusement park for just $17.99 (plus taxes/fees) if they wear their uniform or troop shirt. Rep your troop, learn some science, and enjoy park rides all at the same time!
Interested in group discounts? Book today by calling 251-923-3490 or email GroupSales@visitOWA.com! We hope you can join us March 20th for Girl Scouts Day in The Park at OWA.