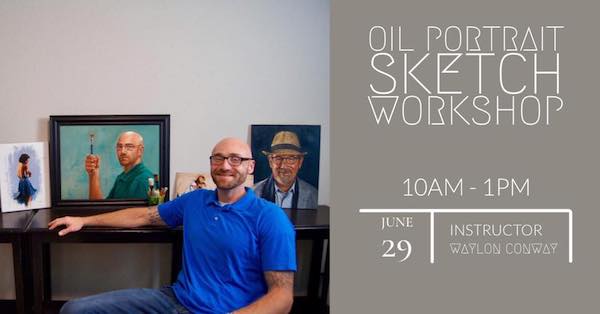 Oil Portrait Sketching with Waylon Conway
Map Unavailable
Date/Time
Date(s) - June 29, 2019
10:00 am - 1:00 pm
Location
Stewart Heath Gallery
Categories
1. Learn the steps in my process of painting the human head, from initial drawing and block in to the final details.
2. Open to all experience levels.
3. Time allotment 3 hours.
Go thought the procedure of placement of the head on the canvas and overall proportions of the human head. Talking points on the aspects of color hue, value, and intensity. How I lay in the skin tones working from the darkest to the lightest, large masses to finer details. I will paint on my own canvas as the class follows along each step and then help others that may not be moving along at the same pace as the rest of the class. I will provide an 8×10 canvas panel, brushes, paints, mediums, and materials for clean up. Being as it is a class for beginners, I would like to supply the photo reference. However I will be explaining concepts that can be used to paint any other subject matter.
The price is $100.00 per student for a 3 hour class.
Register for class:
https://www.stewartheathgallery.com/classes-at-shg/oil-portrait