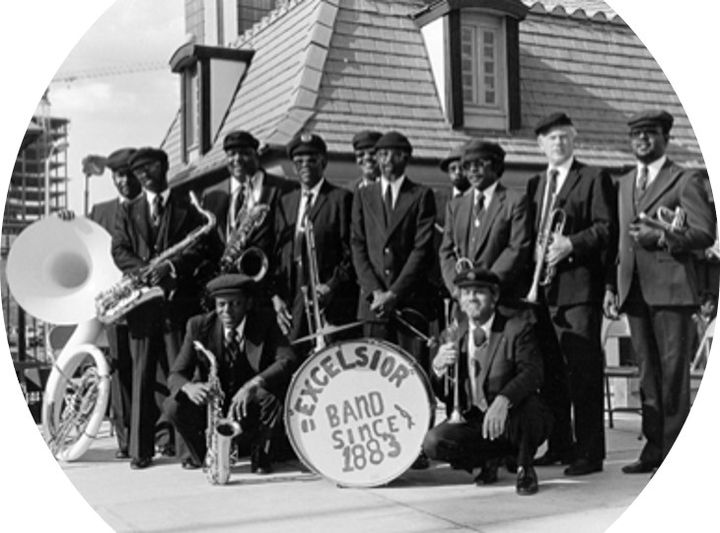 Mobile Public Library: Let the Good Times Roll with the Excelsior Band & the Mobile Public Library
Date/Time
Date(s) - February 12, 2021
5:00 pm - 6:00 pm
Location
Zoom Room
Categories
The Mobile Public Library is excited to host a Zoom celebration with Mobile's​           beloved second-line band, the Excelsior Band! The parades are cancelled, but the celebratory spirit of Mardi Gras is alive and well.
What & When: 
Join the Mobile Public Library for the event, "Let the Good Times Roll with the Excelsior Band," on Zoom on Friday, February 12 from 5:00-6:00 p.m. for a special Mardi Gras Jazz Storytime and Concert!
Librarian Cherold Rhodes will read "This Jazz Man" by Karen Ehrhardt; the story features historical jazz musicians and instruments. The Excelsior Band will then be introduced as Mobile's own Jazz Men. Mr. Hosea London, the leader of the band, will share some of the band's history and information about their instruments. They will intersperse playing their music throughout the event.
Who:​ Mobile's historic Mardi Gras brass band: the Excelsior Band.
Where: Virtually on Zoom:​
https://www.google.com/url?q=https://zoom.us/j/95937950123?pwd%3DcmJzellLY1NMMlczTml YNEMrbEtmZz09&sa=D&source=calendar&ust=1611598055045000&usg=AOvVaw0-BzzKMfqc 4HCcs5g4Z82w
Why: Mobile is the home of Mardi Gras and the Mobile Public Library wants to offer families in​          the community a fun way to keep the celebration alive during the pandemic. The Excelsior Band was founded in 1883, and they play many genres of music with an emphasis on Dixieland and conventional jazz. The "Let the Good Times Roll with the Excelsior Band" virtual event offers the community a free concert and storytime to keep carnival traditions vibrant.