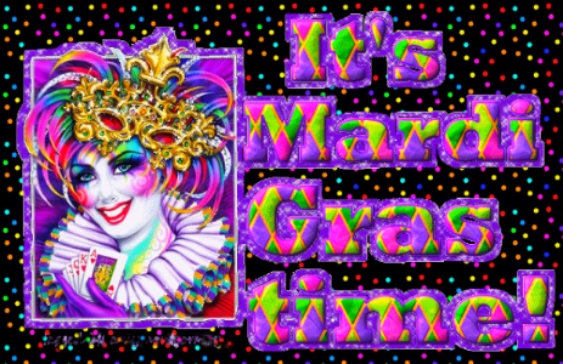 Mobile Mystery Dinners: Murder at Mardi Gras
Date/Time
Date(s) - February 4, 2022
7:00 pm - 9:00 pm
Location
Club 601 @ The Elks
Categories
The honor of your presence is requested at the annual Krewe de Mydal Masquerade Ball.
Our King, Pierre DuPre, and his Queen, Velvyt DuPre, look forward to seeing you at their Dauphin Street Mansion for what is always the social highlight of the Mobile Mardi Gras!!However, a big mystery develops for Mobile when Pierre DuPre is found murdered at his own party!! Which one of his "friends" or family is the killer? You are in for an evening to remember!!Masks and costumes are optional, but everyone will certainly have something to hide!!
"Laissez Les Bon Temps Rouler!!"  (Let the Good Times Roll)
The motley crew in Murder at Mardi Gras:
GOTHIKA – is an internationally famous author, Gothika.  Her  series of books have made her a multi-millionaire.  Despite the objections of the Old Money guards of the Krewe de Mydal and also, of the Old Money of Mobile, she was invited to join the Krewe de Mydal ten years ago.  The Krewe de Mydal wanted the biggest celebrity in the Mobile Area to serve on their Krewe.  She was just a status symbol for them!  Membership in the Krewe de Mydal opened many doors for her in Mobile society that money could not buy!!  Nobody snubs Gothika now!!  She has  plans to buy DuPre Mansion on Government Street, and turn it into a bed and breakfast for her fans.
GATOR THIBODEAUX  – Grew up in Bayou La Batre and his family is 100% proud shrimpers!!  It is a big secret that he is Buffye's DuPre's fiancé.  Gator's family catches alligators and makes sausage and sells the hides.  Gator is considered too low-class to consider dating Buffye and Pierre is adamantly against him marrying his daughter! Gator  worked hard to get a scholarship at LSU, and now, he is coming to the party to ask Mr. Dupre for his blessing.  Gator and Buffye are in love and are getting married, no matter what!!
ROYALLE DuPRE – His mother was a burlesque dancer on Dauphin Street.  His parents were engaged to be married when Jean Luc DuPre died mysteriously at a Mardi Gras party at the DuPre Mansion.  His mother died six months later and he lived in an orphanage until he was eighteen.  Jazz music is the only thing he loves in this world.  When his jazz band was hired to play at this party, his Uncle Pierre had no idea that Royalle was  a member of the band.  Royalle is the dirty little, lower Dauphin Street secret in the DuPre family, and he is ready for revenge…..
BIENVILLE McGILL – is  the DuPre Family's personal attorney and Pierre DuPre's  best friend.  Bienville is also Buffye DuPre's Godfather.  When he is not tending to the extensive legal affairs of the DuPre family, he is busy overseeing the extensive restoration of his  magnificent Government Street  mansion.  It is his dream to restore McGill Mansion to her former glory as she was before those Yankees invaded the South!!
LeGASSE  REMOULADE– is the DuPre Family's live-in chef.  Mr. DuPre paid LeGasse's way through the Bishop State Culinary school.  In exchange, LeGasse signed a legal contract agreeing to work as Mr. DuPre's live-in chef for ten years!  With five years left on his contract, he is desperate to leave and pursue a television career.  A major television network wants to produce LaGasse's show, TURN UP THE HEAT, for a national audience.  They will not consider him as song as he has an employment contract with DuPre-they don't want any bad publicity.  Unfortunately, LeGasse cannot get out of his contract unless Pierre DuPre releases him or dies!!
MADAME GRIS GRIS – is  a swamp witch and personal spiritual advisor to Pierre DuPre.  For the past twenty years, Gris Gris has protected Pierre DuPre from his enemies and used her spells to increase his wealth.  She  lives on Coden Bayou, where she has  a wishing stump near her house for her special clients like Pierre DuPre.  Gris Gris' clients go deep into the swamp to her wishing stump and write a note with their wishes on it and wrap a $100.00 bill around the note.  This allows her to channel her most powerful voodoo spirits to make sure their wishes are granted. Pierre was usually too busy to visit Gris Gris in the Bayou, so she made many personal visits to DuPre Mansion to be of service during his many personal emergencies.