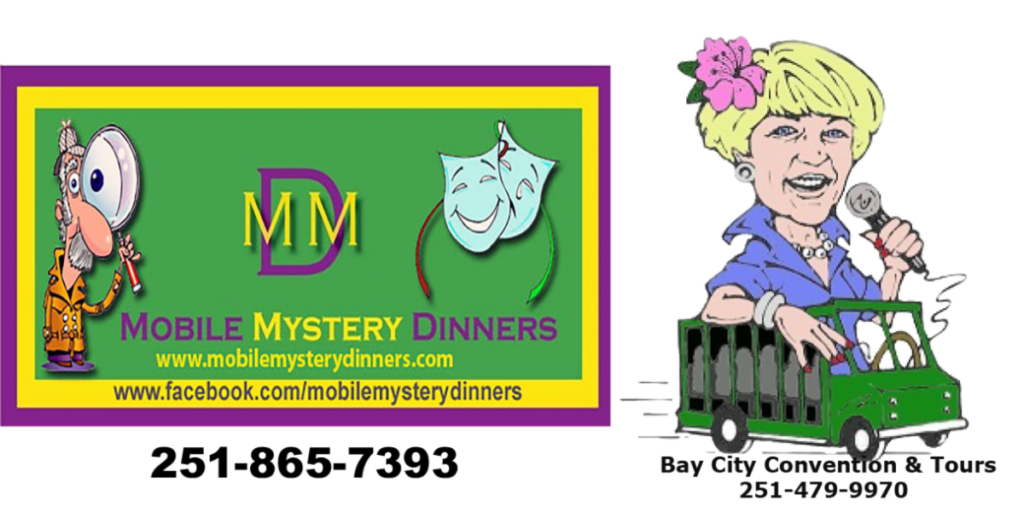 Mobile Mystery Dinners: Ghost Tour of Historic Mobile
Date/Time
Date(s) - October 30, 2021
7:00 pm
Location
Mobile Mystery Dinners
Categories
Mobile Mystery Dinners' Performances for the month of October, 2021, are exciting and fun-filled GHOST TOURS of historic Mobile!!!
OUR TOUR ON THE 15th, WAS SOLD OUT AND EVERYONE HAD A GREAT TIME.
OUR NEXT AND FINAL TOUR IS:
OCTOBER 30th, 2021 AT 7:00 pm
MMD has partnered up with
BAY CITY CONVENTION & TOURS
to provide this exciting tour for you!
MAKE THIS A FAMILY OUTING! BRING THE KIDS (6 AND UP) FOR A SAFE AND FUN HALLOWEEN EXPERIENCE!!
Get your reservations before this one sells out also!!
Seating is limited!
We will have a 55 passenger bus and will load at 6:30 PM.
We are going to meet in the parking lot at Ft. Conde at South Royal Street. There is plenty of free parking!
No mystery to solve, just sit back and enjoy the antics of the MMD PLAYERS as they entertain you riding through the streets of Mobile!!
Come see the MMD Players act out ghost stories on the streets of Mobile while you are in a comfortable bus, listening to the tour guide tell the stories.
But, don't get too comfortable because the Players come on the bus and bring those stories to life for you!!
You might feel some cold hands on your neck, or you might be seduced by a lady of the night from long ago or you might get caught up in a fight of jealousy which has lived on for over 150 years…..who knows what all will happen!?!
THIS GHOST TOUR COMES ALIVE!!
GHOSTS, SPIRITS and STRANGE HAPPENINGS OF HISTORIC MOBILE!
Your guide on the bus will tell the stories as they come to life on the streets of the city by the MMD Players. 
Hold on to your hat when these 'ghosts' actually get on the bus!! 
You will meet characters out of Mobile history including:
Octavia and Henry LeVert, Charles Boyington, Floating Island, General Canby, Mrs. Ketchum, Yankee & Reb Soldiers in Washington Square, Melanie, Scarlett & Ashley from Gone with the Wind, just to name a few!!
ADVANCE RESERVATIONS ARE REQUIRED.  
CALL 251-479-9970 or 800-338-5597
today to make your reservation!! 
$35.00 Per Person
(Based upon a minimum of 35 People for the tour) 
 (You will be with us approximately 3 hours)