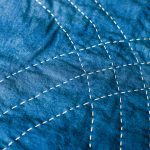 Mobile Museum of Art: Whole Cloth Quilting with Aaron Sanders Head
Date/Time
Date(s) - October 24, 2021
10:00 am - 2:00 pm
Location
Mobile Museum of Art
Categories
In this workshop, participants will learn the basic techniques of big stitch, whole cloth hand-quilting. Whole cloth quilting relies on the intricacies of the quilting lines rather than the intricacies of pieced blocks. Participants will learn traditional techniques, which materials will best suit your work, tips, and tricks to set you up for quilting success, and tricks to making easy quilting stencils using household objects. Participants will learn all of the skills necessary to complete a large, whole-cloth quilted quilt, including making and attaching homemade binding—but we'll just be working on a small scale during the workshop.
Participants will be able to leave the workshop with a strong start or, in some cases, a finished 10 x 10 inch mini quilt.
An illustrated PDF covering all techniques, including binding, to finish quilts on your own time will also be included.
Sunday, October 24
10 am – 2 pm
$145/$125 members