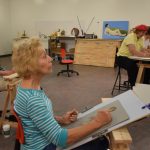 Mobile Museum of Art: Figure Drawing with Bronco Sloan
Date/Time
Date(s) - April 20, 2021
10:00 am - 12:00 pm
Location
Mobile Museum of Art
Categories
The human figure has represented the pinnacle of form in art since the first humans began creating images. Join artist and educator, Bronco Sloan, on a journey of gesture, form, and connection in this figure drawing course. This class would best serve students that have had some basic drawing experience.
We will begin with basic armature as it relates to gesture, balance, and proportion. Students will employ a variety of styles and techniques to flesh out the form with a focus on basic underlying anatomical structures and connections. Through rendering physical characteristics of the human figure, we will address various contour line applications, dynamic linear energy, and the illusion of mass and volume. Using a variety of materials and techniques to create diverse, individualized representations and critical analysis, students will expand their foundational drawing skills in this six-week course.
Student Outcomes:
Students will apply basic foundation drawing skills to principles of gesture, anatomy, and creative interpretation of the human figure.
Students will experiment with various drawing materials and processes to produce both accurate and creative representational works.
Students will employ related vocabulary to the analysis of finished work in a constructive and critical dialogue.
Tuesdays, March 23 – April 27
10 a.m. – noon
$160/$130 members
Register Here: https://www.mobilemuseumofart.com/learn/adults/art-ghost-page/adult-classes-registration/