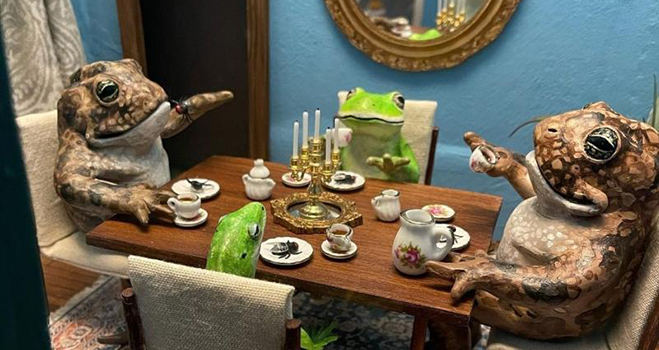 Mobile Museum of Art: Fantastical Forest
Date/Time
Date(s) - July 25, 2022
All Day
Location
Mobile Museum of Art
Categories
The Mobile Museum of Art presents Fantastical Forest, a new site-specific, interactive installation for children commissioned by MMofA and funded by area organizations. Designed by Mobile-based artist Lucy Gafford, this installation is the Museum's second kid-and-family friendly project, and address's themes of nature, ecology, and art. Gafford designed and conceived the installation, and enlisted the help of fellow artists Ben Kaiser and Vanessa Quintana, with audio design by The Company Retreat and Octopus Prime.
This exhibition, located in MMofA's Education wing, is an enchanted forest teeming with friendly creatures, colorful birds and flowers, and secret nooks and crannies where delightful surprises await. Visitors can join the birds and creatures by climbing a treehouse and looking down on the lush forest floor below.
"We deeply appreciate the Mobile Museum of Art for entrusting us to create this large-scale installation," Gafford says. "The many months of hard work that have gone into this project have been an incredible learning experience for everyone involved, and we foresee it making new opportunities for us as artists in the future. We hope you visit and experience the magic of the Fantastical Forest!"
Fantastical Forest is interwoven with Alabama's State Board of Education standards: themes of ecology and the importance of the environment; math; geography; language arts; creative writing and visual arts.
MMofA gratefully acknowledges the support of the following for this installation: The Mary Josephine Larkins Charitable Foundation, The J.L. Bedsole Foundation, The Ben May Charitable Trust, The Rotary Club of Mobile, The C.D., Helen and Jeff Glaze Foundation, and The Moses Foundation. The educational video made for this project was directed by Joseph Brennan and is generously supported by Art Bridges. The artists responsible for this project are Lucy Gafford (lead concept and artwork) with assistance from Ben Kaiser and Vanessa Quintana. Audio design is by The Company Retreat and Octopus Prime, and sound is by Michael Francis. Support for this, and all museum exhibitions and programs, is provided by the Alabama State Council on the Arts, the National Endowment for the Arts, and the City of Mobile.
---
Fantastical Forest is now taking MMofA members-only reservations. MMofA Family Members or higher may book for $30 an hour. Bookings must be made online 24 hours in advance and are limited to one group per time slot, with a maximum of 10 people per group. The fee includes a tour of the exhibition, private time in the gallery, and an art activity inspired by the exhibition.
Fantastical Forest member reservations – Mobile Museum of Art