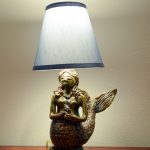 Mobile Museum of Art: Building a Clay Lamp with Angie King
Date/Time
Date(s) - October 26, 2021
5:30 pm - 8:00 pm
Location
Mobile Museum of Art
Categories
The possibilities are endless in this four-week class! We will build a clay lamp from scratch according to your own design. From traditional forms to truly funky and anywhere in between, you will create a unique piece of functional art to use in your home. You will leave with one complete working lamp (shade not included).
Students MUST have some prior clay experience to register for this class.
Tuesdays, October 5 – 26
5:30 – 8 p.m.
$125/$95 members
DURING YOUR VISIT:
• Temperatures will be checked upon entry with a no-contact infrared thermometer
• Visitors are required to wear a mask.
• Utilize the hand sanitizer provided throughout the museum.
• Maintain a 6 to 10 ft distance from other visitors.
• All classes are subject to cancellation or rescheduling following CDC guidelines.