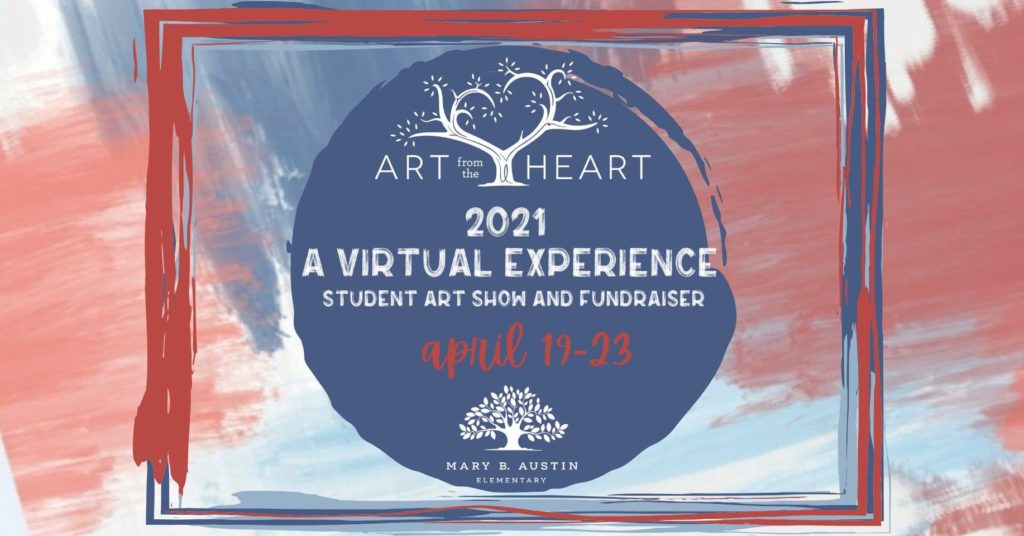 Mary B. Austin Elementary School: Art from the Heart
Date/Time
Date(s) - April 19, 2021 - April 23, 2021
10:00 am - 5:00 pm
Location
Virtual Event
Categories
The Mary B. Austin PTA will host our annual Art From the Heart event, a student art show and fundraiser, VIRTUALLY this year.
As part of Mary B. Austin's dynamic education program, our administration, teachers and parents feel strongly about the importance of arts education. The Mobile County Public School System generously provides weekly art instruction for 3rd-5th graders during the first semester of the school year. However, we feel that it is vital for ALL students at MBA to receive weekly art instruction during the entire school year.
We are proud to say that in the thirteen years since its inception, Art From the Heart has successfully raised the money to ensure that every MBA student can develop his or her artistic abilities throughout the school year.
While our event will not look the same as in years past due to continued COVID-19 safety precautions, we are as committed as ever to raising the funds necessary to ensure the continuation of Mary B. Austin's extraordinary arts program.
This year's event will feature an opportunity to view and purchase student art work, as well as an online auction for our highly sought-after "teacher for the day" experiences, special privileges such as a catered lunch with Ms. Whigham, carpool fast passes, and the opportunity to show our amazing teachers and staff how much we love them with a "pie in the face." (Of course those pies aren't nearly as sweet as they are for volunteering to do this!)
Art From the Heart will take place the week of April 19-23. Student art will be featured on the Mary B. Austin PTA website (
www.marybaustin.com
), and parents, grandparents and friends will have the opportunity to view and purchase the phenomenal works created by our "Austin Artists."
The online auction for special MBA experiences will take place right here on this page. Stay tuned for more details!