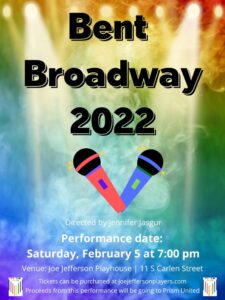 Joe Jefferson Playhouse: Bent Broadway
Date/Time
Date(s) - February 5, 2022
7:00 pm - 9:00 pm
Location
Joe Jefferson Playhouse
Categories
This winter, Mobile's finest performers are taking to the stage and bending the roles! Announcing the return of "Bent Broadway", hosted by the Joe Jefferson Playhouse. This event will feature some of Mobile's greatest singers in a Broadway concert with a twist: Performers singing songs written for the opposite gender!
The purpose of this concert – in addition to donations – is to raise awareness and funds to support the LGBTQ+ youth community in Mobile.
Tickets are $30 per person and are on sale now!
Who are we raising money for?
Prism United, a organization providing social services to LGBTQ+ youth in Mobile. Those involved have led a weekly support group for LGBTQ+ youth since 2015 and provide a space for students to feel safe and affirmed. It is the only organization in Mobile dedicated to specifically provide services to LGBTQ+ youth. In addition to maintaining the group, their services also include:
Monthly events, such as game and movie nights
A library of LGBTQ+ resources and media
Assistance with accessing physical and mental health services
They hope to expand their services in the future to include:
LGBTQ+ trainings at local schools and universities
Creating a shelter for homeless LGBTQ+ youth
Previous sources of funding are no longer available, so this concert and your support are now more crucial than ever. With your contribution, the LGBTQ+ youth community throughout the region can continue to receive the support they need and deserve.