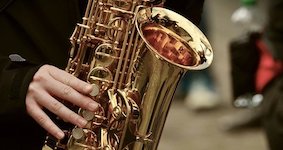 Gulf Coast Ethnic & Heritage Jazz Festival
Map Unavailable
Date/Time
Date(s) - July 29, 2022 - July 31, 2022
All Day
Location
History Museum of Mobile
Categories No Categories
Registration Deadline: July 9, 2022
The Gulf Coast Ethnic & Heritage Jazz Festival began it's Jazz Student Demonstration Workshop in the year 2000 to teach the history of jazz and familiarize the community with jazz music. The workshop grew into a summer camp in 2011 being organized by festival founder, Creola Ruffin and New Orleans musician and music instructor of the Louis Armstrong Jazz Camp, Kent Jordan. The camp became the Marcus Johnson Jazz Camp in 2015, named for Bay City Brass Band director, Marcus Johnson who passed away in 2014. The Marcus Johnson Summer Jazz Camp is a 10-day program. Hosea London, acclaimed musician, educator and recent recipient of Mobile's Arts Council's prestigious ARTY Award for outstanding music educator, serves as Director/Chief Clinician. Mr. London is also the leader of the E.B. Coleman Orchestra and the Excelsior Band. Our talented students consist primarily of middle school and high school students, with a select few college level students a who serve as assistants to the music director.
MISSION
The mission of the GCEHJF's Marcus Johnson Summer Jazz Camp is to honor the jazz genre and promote it among future generations by providing Mobile area youth with valuable exposure to and appreciation for the Jazz art form.
CLASS CONTENT
M. J. Summer Jazz Camp classes focus on music appreciation of legendary jazz giants, noting the uniqueness of their interpretations of the genre, individual instruction on the structure of improvisational style and the important role each instrument plays in carrying out an authentic jazz sound.  Each year the program provides a Master Class experience conducted by a distinguished guest artist. This year we are proud to welcome  jazz artists, composers and educators, The Excelsior Band, as the Artists in Residence and Headliner for the July 31st, virtual jazz concert.  The event will be held at 6 p.m. on Facebook Live through the Gulf Coast Ethnic & Heritage Jazz Festival Page.
Students are also taught the fundamentals of self-discipline, responsibility and commitment to practice.  The educational experience students will receive will instill the core values of confidence, leadership and teamwork and good citizenship. These valuable tools will encourage youth participants to become confident, skilled musicians, as well as well-rounded students academically.
REQUIREMENTS
In order for students to participate in the M. J. Summer Jazz Camp program, they must have their own instrument.  In addition, they must have at least an intermediate level of understanding of the instrument and be able to play basic scales.  Finally, it is extremely important that participating students be committed to attending the daily workshops and practicing regularly. The M. J. Summer Jazz Camp is essentially an accelerated program, and must be adhered to in order to maximize the experience.  The cost for participation is $50 per student, which includes, materials, musical arrangements, and daily refreshments.
Social distancing will be practiced.  Students will receive a new disposable mask daily.  A professional cleaning crew will be used to sanitized restrooms and commonly used areas throughout the duration of the camp.  Students and instructors will be temperature screened daily with a touch-free thermometer.