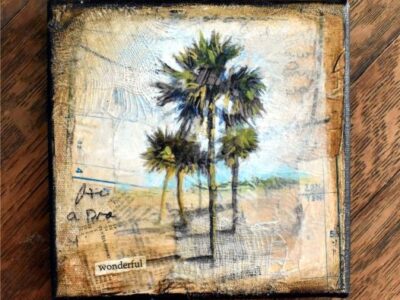 Eastern Shore Art Center: LAYERED LANDSCAPES IN ACRYLIC AND COLLAGE
Date/Time
Date(s) - March 5, 2022
10:00 am - 4:00 pm
Location
Eastern Shore Art Center
Categories
Title: Layered Landscapes in Acrylic and Collage
Type of Workshop: Acrylic and Collage
Instructor: Robin Popp
Date: March 4, 5, and 6, 2022
Price: $325/300
Time: 10:00am-4 pm
Join Robin for a deep dive into acrylic painting. We'll be exploring different techniques, surfaces and tools and playing with new possibilities for creating representational paintings with texture. Beginners are welcome! No drawing skills required.
Robin will bring photo references, paper swatches, found words, as well as different surfaces for painting on and new tools to try.
Color mixing will also be a big part of this class as Robin shares her experience with a limited pallet.
Acrylic paints are the perfect medium for collage, texturing, and mixed media. We'll explore these and more while staying on the side of realism.
Fun, Fun, Fun!