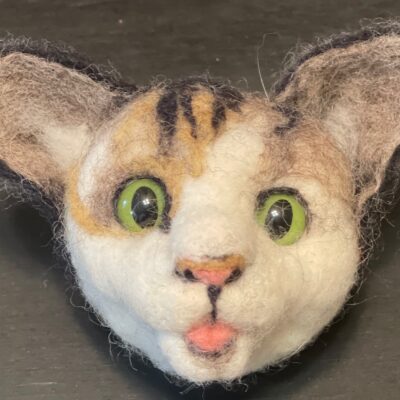 Eastern Shore Art Center: Felting the Family Pet
Date/Time
Date(s) - March 25, 2022 - March 26, 2022
10:00 am - 3:00 pm
Location
Eastern Shore Art Center
Categories
Title: Felting the Family Pet
Type of Class: Textile Class
Instructor: Debbie Davis
Dates: March 25 and 26, 2022 – 10 am to 3pm
Price: $200/175
All provided materials can be taken home for further felting fun!
Family  Pets, Sculpted in Wool!
Join our 2 day Needle Felting class and learn to create a likeness of a family pet that you will cherish forever. Bring photos of current or former pet to work from and create small wool sculptures of your furry, scaled or feathered babies! These make great gifts for family and friends missing a furry friend who passed away!
Needle Felting is the art of sculpting using wool fiber and special notched needs. You will be amazed how quickly projects come together even with little or no previous needle felting experience.
All materials will be provided for a $25.00 fee. Please bring cash or a check addressed to "Debbie Davis" on the first day of the workshop. All materials are yours to keep so you may continue felting when the class has concluded.
You will have a 1 hour break for lunch each day!
Come join the needle felting fun and create a family heirloom that will bring a smile every time you see it!
It's fun, it's easy and you will love your results!