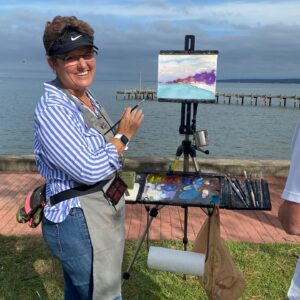 Eastern Shore Art Center: 3rd Annual PLEIN AIR FAIRHOPE
Date/Time
Date(s) - November 1, 2021 - November 6, 2021
All Day
Location
Eastern Shore Art Center
Categories
Join us for Plein Air Fairhope, a community celebration of painting in the great outdoors!
Painters will be taking it to the streets – and the bay front pier!!
This "paint out" will exemplify the artistic vibe of Fairhope in our 3rd annual 6 day event. With idyllic locales and scenic splendor, our city offers abundant inspiration for both area and travelling artists. From sunrise to sunset, artists will set up throughout the city with portable easels, chairs, and umbrellas along downtown streets, at Mosher's castle, Fairhoper's Community Park, the Pier, and more!
Event Details: Painters will be set up November 1-6, 2021 (Sunrise to Sunset) 
Free for the public to walk around. Map with suggested painted zones available online.
Exhibition of painted work is open to the public Tuesday – Saturday 10am – 4pm.
NOV 2 @ 1 – 2 pm Gallery Talk: Craig Reynolds, Plein Air Fairhope 2021 judge, will give a Gallery Talk and painting demo in the Whiting Gallery. $15 for Plein Air Fairhope participants. $20 for the public.
NOV 5 @ 6 – 8 pm Reception: Please join us for the November First Friday Art Walk! Live music and refreshments served. We will present the award for "Best of Show" and the exhibit will officially be open to the public.
NOV 6 @ 9 – 10 am Quick Draw: Participating artists and the community are invited to paint in a one-hour Quick Draw! The event will be held in the park to the left of Fairhope Pier. Free to all Plein Air Fairhope artists. Public may participate for a donation to ESAC. The prize for the 2021 Quick Draw is sponsored by The Fairhope Store and Lisette Normann.
Work created in the "paint out" will be available for purchase at ESAC during the event. First Friday Art Walk will double as our reception November 5 @ 6pm and remain on exhibit at ESAC through December 30, 2021.
Proceeds to benefit the Eastern Shore Art Center's community outreach efforts.