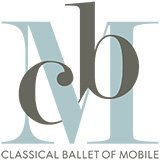 Classical Ballet of Mobile: Spring 2023 Classes
Date/Time
Date(s) - January 2, 2023 - May 20, 2023
12:00 am
Location
Classical Ballet of Mobile
Categories
Our weekly lineup of Pre-Ballet, Academy, Adult, and Open classes is available below. Open classes are listed with hyperlinks. Academy classes require placement prior to registration. Classes with an *asterisk indicate that Academy students in the associated level are required to take at least that one class in order to be considered for casting in Classical Ballet of Mobile performances. "Tech" is short for technique: foundational training for ballet.
Spring 2023 Term: Jan. 2 – May 20
PREPARE NOW: Summer 2023 Session is June-July
New to Classical Ballet? Contact us to schedule a placement class and discuss your dancer's goals. We welcome beginners and beyond!
Beyond our regular classes, preview the full Season Calendar to plan for great classical ballet in Mobile.
Schedule is subject to change.
10:00-11:00 a.m. Adult Ballet with Mrs. Jacqueline
3:00-3:45 p.m. Pre-Ballet 1 with Miss Anna
3:45-4:30 p.m. Pre-Ballet 2 with Miss Anna
3:45-4:45 p.m. OPEN Ballet Technique with Mrs. Jacqueline
4:30-5:15 p.m. Pre-Ballet 3 with Miss Christina
4:30-5:15 p.m. Pre-Ballet 3 with Miss Anna
5:30-7:15 p.m. Ballet 5 Tech/Pointe with Miss Anna
10:00-11:00 a.m. Adult Ballet with Mrs. Jacqueline
3:45-4:45 p.m. Ballet 1 with Miss Christina*
3:45-4:45 p.m. Ballet 2 with Miss Anna*
3:45-5:00 p.m. Ballet 4 Tech with Mrs. Jacqueline*
4:45-5:45 p.m. Ballet 3 with Miss Anna*
5:00-6:30 p.m. Ballet 5 Tech/Pointe with Mrs. Jacqueline
5:45-6:15 p.m. Première Pointe with Miss Anna
6:30-7:30 p.m. Open Strength & Conditioning with Miss Anna
9:00-10:15 a.m. Adult Ballet with Mr. Jeff
10:15-11:30 a.m. Adult Musical Theatre with Mr. Jeff
3:45-4:45 p.m. Ballet 4 Tech with Mrs. Jacqueline
3:45-4:45 p.m. Jazz/Musical Theatre 2 with Mr. Jeff
4:45-5:45 p.m. Jazz/Musical Theatre 1 with Mr. Jeff
4:45-6:45 p.m. Company Class with Mrs. Jacqueline
5:45-6:45 p.m. Adult Beginner Ballet with Mr. Jeff
10:30-11:30 a.m. Adult Beginner Ballet with Mr. Jeff
11:30-12:15 p.m. Circuit Training with Mr. Jeff
3:30-4:30 p.m. Ballet 1 with Miss Anna
3:30-4:30 p.m. Ballet 1 with Miss Christina
4:30-5:30 p.m. Ballet 2 with Miss Anna
4:30-5:30 p.m. Ballet 5 Technique with Mrs. Jacqueline
5:30-7:00 p.m. Ballet 3 & 4 Technique with Footwork with Miss Anna
9:00-10:15 a.m. Adult Ballet with Mr. Jeff
10:15-11:30 a.m. Adult Musical Theatre with Mr. Jeff
3:45-4:45 p.m. Ballet 4 & 5 Tech/Pointe with Mr. Jeff
4:45-5:45 p.m. Ballet 4 & 5 Partnering with Mr. Jeff