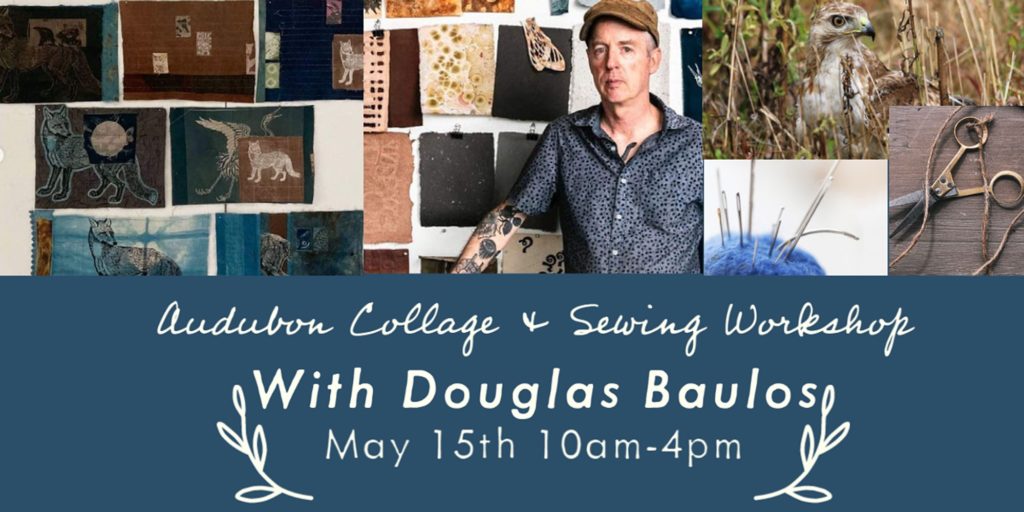 Central Arts Collective: Sewing and Collage Workshop with Douglas Baulos
Date/Time
Date(s) - May 15, 2021
10:00 am - 4:00 pm
Location
Central Arts Collective
Categories
Audubon Collage with Sewing Workshop with Douglas Baulos
May 15- Participants will create furoshiki and sashiko (long stitch) sewn fabric.
The processes covered will provide a platform for ecological discussion about extinction and sustainability and help provide mending (or remediation) practice for participants.
Participants are encouraged, but not required, to bring the following: various fabrics you like! If in doubt about thickness – bring lots! Bring a ruler, pencil, awl or pushpin, scissors and cutting matt and xacto blade or utility knife, bone folder if you have them.
Please bring a crewel or embroidery needle and a spool of coats and clark button thread – Instructor will also demo needlework effects if you want to bring other types of string, sashiko thread and additional needles. Please bring any other objects you might want to work with! If you are also taking the plant-based dye workshop on May 14, please consider bringing along some of that fabric.
Lunch is from 12-1. We will provide coffee, tea, and water. Please bring along a brown bagged lunch. We encourage physical distancing outside and require masks inside the building.
If you haven't already, please take a look at Doug's website to view his artwork, installations, and to learn more about him. We are so excited!!!