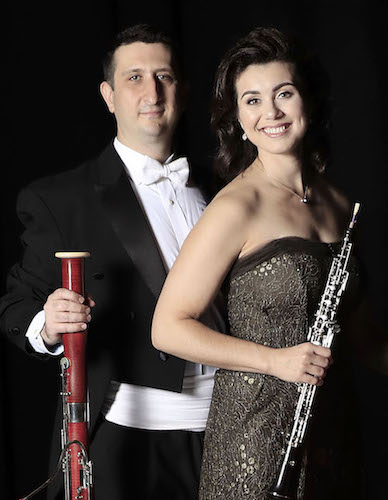 Atherholt Oboe & Bassoon Duo Guest Artist Recital
Date/Time
Date(s) - March 2, 2019
3:00 pm - 5:00 pm
Location
Laidlaw Recital Hall
Categories
The University of South Alabama will present a guest artist recital featuring bassoonist Benjamin Atherholt and oboist Jaren Atherholt on Saturday, March 2 at 3:00 p.m. in the Laidlaw Performing Arts Center. The Atherholts are the featured guest artists for USA Double Reed Day, an all-day event for area double reed students culminating in this recital. The Atherholts will be joined by USA faculty members Rebecca Mindock and Robert Holm, and the concert program will include works by Handel, Douglas, and Stravinsky. Immediately following the guest artist recital, the Double Reed Day participants will perform a brief selection of pieces for large double reed ensemble.
Admission to this Department of Music concert is free and open to the public. Persons needing more information about this event or in need of special accommodation may call 251-460-7116 or 251-460-6136.
Benjamin Atherholt plays Assistant Principal Bassoon and Contrabassoon with the Louisiana Philharmonic Orchestra, and Contrabassoon with the Chautauqua Symphony Orchestra since 2006 & 2015 respectively. He is the bassoonist and primary composer and arranger for Lyrica Baroque and has been the Instructor of Bassoon at Loyola since 2010.
Jaren Atherholt is the Principal Oboist of the Louisiana Philharmonic Orchestra, a position she has held since 2007. She is also the newly appointed Assistant Professor of Oboe at the University of North Carolina School of the Arts. Jaren spends her summers performing in the Grand Teton Music Festival in Jackson Hole, Wyoming and is the founder and Executive Director of Lyrica Baroque, a chamber ensemble and non-profit organization based in New Orleans.
More information about the Atherholts and about USA Double Reed Day, including registration for the event, can be found at
http://www.southalabama.edu/colleges/music/doublereedday.html.