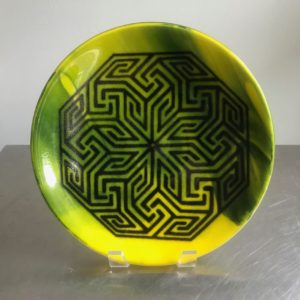 Alabama Contemporary Art Center: GLASS FUSING ALCHEMY W/ RACHEL WRIGHT
Date/Time
Date(s) - May 26, 2022
5:30 pm - 8:00 pm
Location
Alabama Contemporary Art Center
Categories
May 26, 2022, 5:30 pm – 8:00 pm
Alabama Contemporary Art Center
301 Conti Street
Mobile, Alabama
Create unique patterns, and experiment with color and texture while making your own glass fused piece. We will use stencils with colored glass powders and layer the glass to create depth and richness in your project. Imagine a glass textile print! The end product can be slumped into a shallow bowl form or kept as a flat panel. No previous glass experience is necessary. Masks are encouraged for all workshop participants! Workshops will also be limited to 12 participants each to allow social distancing.
Thursday, May 26, 2022, | 5:30 pm – 8:00 pm | Registration is $80 or $60 for ACAC members
For registration assistance or more information, contact us at info@alabamacontemporary.org or 251-208-5671.
---
WORKSHOP POLICIES
› Participants are encouraged to wear a face mask throughout the duration of the class.
› This class is meant for individuals who are 15 years old or older.
› This class is limited to 12 students and will be subject to cancellation if minimum attendance requirements are not met.
› Please wear clothes that can get dirty.
› Registration fees are fixed and refunds will only be issued if the class does not meet the required attendance numbers.