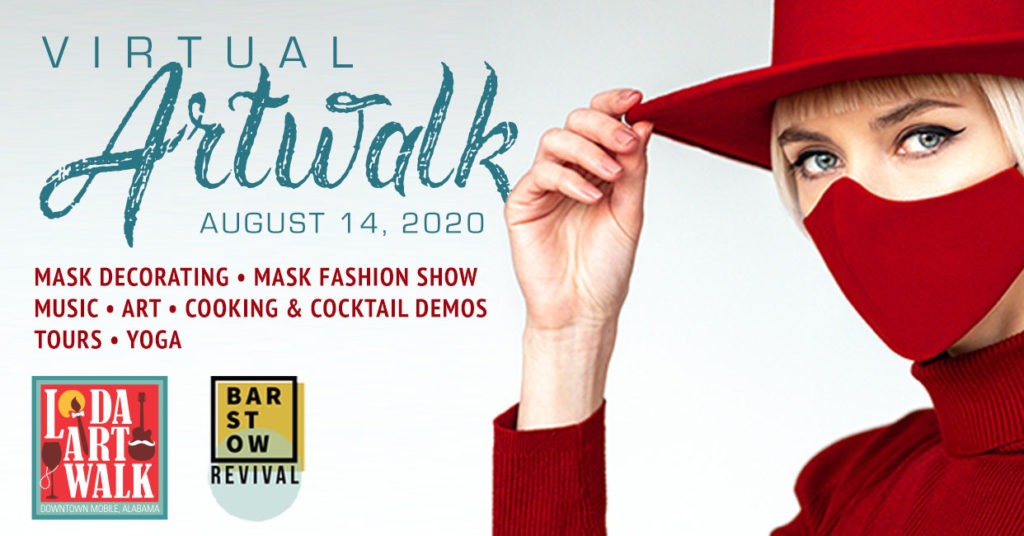 Virtual ArtWalk: August 14th, 2020
COVID-19 can't stop us from celebrating our rich arts and cultural community! Click the hyperlinks (in blue text) below for streamed performances, works from featured artists, take out and online sales, and special content from local businesses and arts organizations.
Stay tuned to the Virtual August ArtWalk Facebook event page on Friday, August 14th to easily access content from artists and arts organizations! We will be posting a video highlighting local business, artwork, and more on the page that day. See the official schedule below!
Local Arts Organizations & Downtown Businesses
In addition to the Virtual ArtWalk schedule, see a listing below of local arts organizations (some not included in the schedule) and participating downtown businesses, along with descriptions of their activities. Click each participant's name or the links in the text to be taken directly to their content or contact pages.
Although August 14th LoDa ArtWalk is strictly virtual, many of downtown's businesses have reopened their doors to the public under strict safety guidelines and modified hours. While most arts and cultural organizations will not be operating Friday evening, you can still show your support and visit them responsibly throughout the month of June. Remember to maintain small groups and respect social distancing. The listing created below is a product of the Mobile Arts Council, and not the City of Mobile.
In accordance to governor Ivey's Public Gathering Order, all non-work related gatherings of any size, including drive-in gatherings, that cannot maintain a consistent six-foot distance between persons from different households are prohibited, and we do not condone any offerings that conflict with that order.
Alabama Contemporary Art Center: Now reopen to the public, see their new exhibitions – Hair City Fair, Cheer Me Up, Cheer Me On, and A Monstrous Feast – on Thursdays – Saturdays from 11 a.m. to 5 p.m. Masks required. Pay what you can!
Bienville Souvenirs & Gifts: Open daily for business and offering email and phone orders for curbside delivery.
Coastal Makers: Shop custom artwork and workshops for all ages online. Currently enrolling for summer camps!
Container Yard: Ease back into work at Container Yard with FREE Fridays from 9:30 a.m.- 4:30 p.m.! Enjoy hot coffee, quick internet, and a clean and safe work environment.
Creative Culture Studios: Creative Culture Studios is Mobile's first one stop art shop! It serves as a shared work space for local artists and offers a number of creative services, that include paint parties, custom tees, art work, graphic design, and more. Locally owned and operated.
Deep Fried Studios: Join in on Facebook for the Uncle Henry Internet Show start at 8 p.m. and for this week's Deep Fried Live set from 10 to 11 p.m.
Downtown Mobile Alliance: Download the Main Street 25th Anniversary Coloring Book from the Downtown Alliance website. Read the blurb of history to learn a bit about the revitalization effort over the last 25 years.
History Museum of Mobile: The History Museum has officially reopened to the public! See Ancient Rome: The Empire That Shaped the World, open 7 days a week and free on first Sundays. Visit their website for virtual tours and other resources safely from home!
Innova Arts: Shop local artists in store, online for curbside pickup or delivery!
Joe Jefferson Players: Watch JJP's virtual vaudeville showcase!
Nourish Cafe: Cook along with Garrick from Nourish Cafe on Facebook!
Lupercalia Art Society: Shop local artists in store or virtually online with curbside pickup! Join Lupercalia for live music in the gallery on Friday evening.
Mobile Arts Council: Tune into the Facebook Event Page for a virtual ArtWalk welcome and a quick glimpse at this month's exhibitions, featuring works by Micah Mermilliod, Taylor Shaw, and Reagan Barnett. Watch online or stop by to see the shows in person Wednesdays – Fridays from 10 a.m. to 4 p.m. next to the Saenger through the end of August.
Mobile Ballet: Follow Mobile Ballet's Facebook & Instagram pages for recent updates and special content from past performances. They are also offering virtual classes, available to new and previous students and FREE to register!
Mobile Carnival Museum: See the museum's newest quarterly exhibition, Carnival and Couture, 1920-2020, now open to the public! Immerse yourself in the rich history and traditions of carnival through a virtual tour of the museum, photos from the gallery, and more!
Mobile Museum of Art: Engage with Art at Home classes, the Stay Home Mobile project, virtual tours of past and current exhibitions, behind the scenes footage of the museum's operations, or check out the latest news and resources from MMofA. Now reopen to the public!
Mobile International Festival: Learn about different types of face masks, and how to make your own at home through a tutorial video!
Mobile Public Library: Browse an incredible selection of free virtual STEAM crafts, literary arts, and storytime programming! From craft classes to virtual escape rooms, there is something to entertain both young and old.
Mobile Symphony Orchestra: Enjoy mini-concerts by Symphony performers, educational lectures, and audio recordings from previous Mobile Symphony Orchestra concerts on their YouTube channel.
Project Fighting Prawn: Enjoy the full version of Project Fighting Prawn's The Mobile Theater Social Distancing Show, a 45-minute special local theater event that streamed on Facebook Live. Made with Mobile Devices, for Mobile Devices, by Mobile artists!
Sophiella Gallery: Now reopen for business, Sophiella features a variety of fine art by established and emerging artists, including reduced priced paintings and small works.
The Admiral Hotel: Experience the Quarantine Diaries, a photography show by A.P. DeVaney created while self isolating during the Coronavirus Pandemic of 2020. All photographs were taken in downtown Mobile, Alabama.
The Haunted Book Shop: The Haunted Book Shop is currently doing home deliveries, curbside, and shipping.
The Peoples Room: Open for business at limited capacity, join The Peoples Room for concerts throughout the month.
Urban Emporium: Shop local products in store, visit their page for special sales, or stop by for curbside pickup!
Veet's Bar: Reopen to the public, join Veet's for live music performances throughout the month.
Local Restaurants Open for Takeout or Curbside Pickup

Most downtown bars and restaurants have reopened their doors to the public, implementing strict social distancing procedures. Visit ThisIsMobileAL.com for a listing of local restaurants currently offering curbside pickup and takeout options! Select bars and breweries are even offering libations to-go.
Local Artists
Support a local artist through an online purchase! Click the link on each image to see more examples of works from our LoDa ArtWalk vendors, as well as select MAC Artist Members.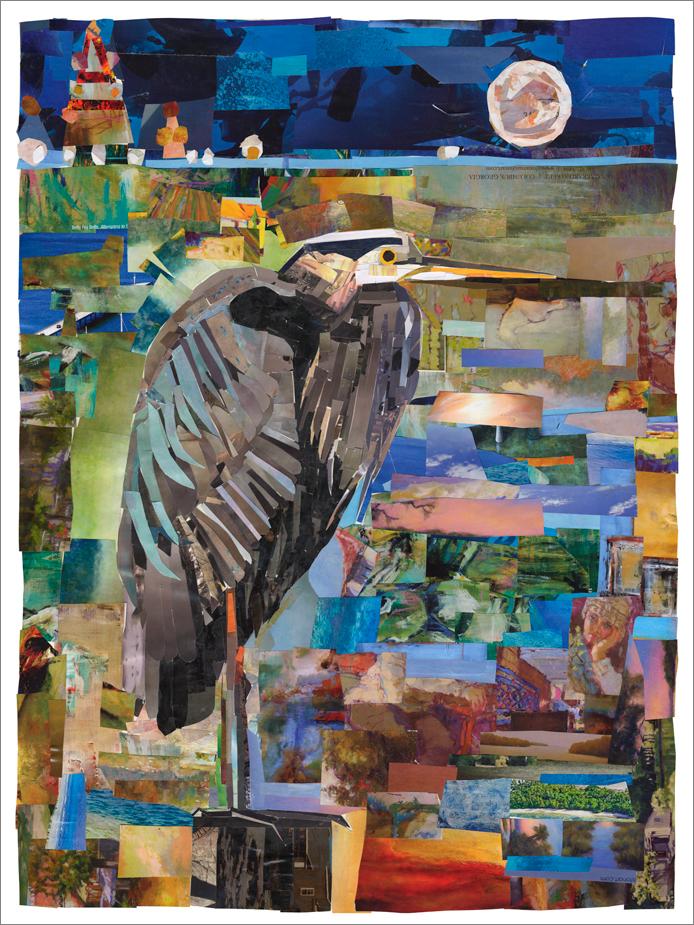 Support an Arts Organization
We encourage everyone to consider donating to an arts organization that they would typically support at this time. Below are some links to local creative groups and initiatives. Donations to nonprofit organizations are tax deductible!
Alabama Contemporary Art Center: Support their POSTCARDS FROM QUARANTINE project or give towards their Service Industry Relief Fund.
Central ArtSanctuary: Central ArtSanctuary's goal is to support artists and to share curated fine art and performance and to build community in midtown Mobile. Please consider a donation to help support future exhibits and to support also the Central Arts Collective artists-in-residence and ArtSanctuary volunteer team.
Mobile Ballet: Your tax-deductible donation is appreciated and needed at this time!
Mobile Arts Council: Donate to help our organization recoup from over $22,000 lost from canceled Spring events and fundraisers.
Mobile Museum of Art: Donate towards MMofA's crazy quilt restoration fund. Want more information on their crazy quilts? Learn more here!
Urban Emporium: The Springboard to Success is a non-profit organization whose mission is to nurture start-up and early stage, independent retailers. The Urban Emporium is the vehicle where Springboard houses and trains retailer entrepreneurs to become successful business people; it is also the store where each entrepreneur's merchandise is sold to the public. Donate to support Urban Emporium or purchase a gift card!
Other Relevant Links:
Diedre Graham: View works from this performing artist.
Powerlines Poetry: Watch poetry recitations by this local award-winning group.
Robert Keith Bivens: View video content from this local filmmaker.
Vernon Fowlkes: Read poetry by this Mobile native.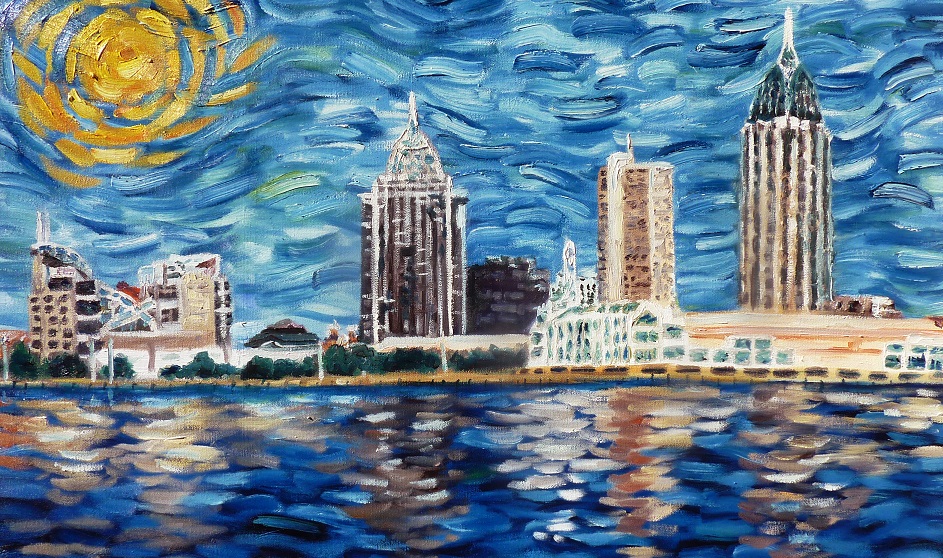 Donate at least $50 here to receive a Mobile Skyline print. Local prints must be picked up at our gallery, unless delivery is needed: https://mobilearts.z2systems.com/np/clients/mobilearts/donation.jsp
About the Print: This painting was created by our Executive Director in 2014. She decided to make prints of this as a much-needed fundraiser for our organization. This original piece was very popular among the community and circulated all over the internet. Now they're finally available, and for a great cause!
This is a friendly reminder to complete the 2020 Census! You can respond online, by phone, or by mail.